Table of Contents
Section 1.1 – Inlay synopsis into the gambling industry
Section 1.2 – Gross gambling yield and market breakdown

Section 1.3 – Regulations and legislation within the industry
Inauguration
---
Inlay synopsis into the gambling industry
This report provides an overview of the Gamstop initiative, including how it has been nurtured into the UK Gambling Commission jurisdiction. Our findings have been conducted using an array of surveys and data from multiple sources thus ensuring all aspects are encompassed. We delve deep into fundamental reports on this topic and how the industry and a range of businesses will be impacted in the mid to long term by the Gamstop scheme. 
This report has been conducted by senior officials within the industry, including participation statistics, gambling behaviors from consumers, awareness towards the Gamstop scheme, and ways in which consumers can use such management tools to evolve their gambling experiences. It also includes their perceptions and attitudes towards gambling in 2020.
Gross gambling yield and market breakdown
Gambling has become such a vast industry, with many subsectors for consumers to diversify within, as well as specific markets that cater to their needs. Our research has gone hand in hand with that from the UK Gambling Commission to discover the latest figures for regarding the Gross Gambling Yield (GGY), which was released from October 2018 to September 2019 at £14.3bn.
That meant a marginal decrease from the previous year of -0.5%. Although figures haven't been released from the 2020 edition as of yet, this is expected to make gains in light of the global pandemic caused by Covid-19, something that we will look at in length later in this report. 
Shown below is an in-depth break down as to how gambling is siloed into subsectors and exhibits how the sector uses different markets for entertainment. As expected, remote (or online) gambling is the industry leader when it comes to how the market is split. There is a spilt of 38.6% within the market, showing an increase of 4.3% since the last released figure. And this, of course, is something to be expected in light of the advances in modern technology over the past couple and years, as well as accessibility and usability being improved daily.
In the UK, and surprisingly still consuming a high percentage of the market, is the National Lottery, with ticket sales increasing by £281m to £7.5bn in a targeted time frame. This is also likely as a result of the technology available within the marketplace, with the National Lottery now giving users the chance to play in app format.
The final big player in the market is non-betting GGY, which is the third-largest sub-sector rated by GGY. This is now at £2.8bn, showing a decrease of -13.8% since it was last recorded.
As stated above, regarding the technical advances, this would explain the huge decreases in percentage over the year, with this expected to accelerate even faster in the long run.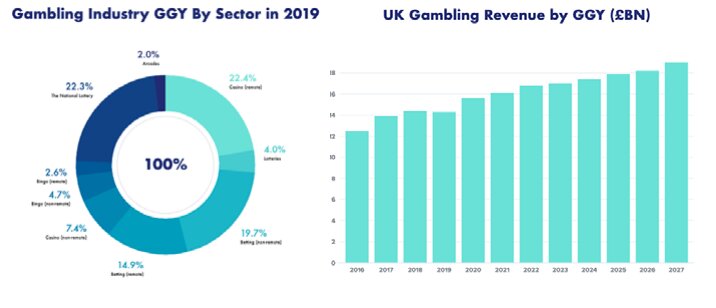 Regulations and legislation within the industry
Within the gambling industry, especially the UK, are varying different legal strategies that regulate these markets, such as the main governing body in the Gambling Commission. But also, local authorities that can access the trends and movements in gambling with an eye for detail in the legalities. Many mainstream operators are all licensed by these commissions to ensure that players know they are safe and protected to sufficiently play in their chosen market. 
The UKGC is committed to the fact that they want to ensure that every operator is working as it should be within the legal barriers, as well as consumers having confidence that the sites they're using, are safe, secure, and trusted. The UKGC is frequently looking for more comprehensive working ways and working alongside other regulators including licensing authorities, the police, and HM Revenue & Customs to ensure illegal gambling activities and betting-related corruption is kept to a minimum within the industry.
Online Gambling Behaviours
Online Gambling Behaviours
---
Online gambling background
Online gambling has been available since the mid-1990s with much literature available explaining the risk to the consumer, due to the increased availability and accessibility to its fundamental markets. This means consumers could access their chosen products with consummate ease.
Thirty years on, gambling has somewhat exploded in terms of how it is now available to consumers and widely available to all. Data suggests it is now more likely that a consumer logs on to a gambling operator's platform than not, in 2020, for returning customers. Having collated a broad survey from gamblers who would have gambled within the last year, 47% of the pool of respondents indicated that they would participate in some form of gambling activity within the next four weeks.

Shift in the pattern for online gambling
Just twenty years ago, no one would have expected the rise of online gambling and the sheer extent of casinos, table games, slots, and card games at the touch of a button.  Many experts have put this down to the shift in the market, in which consumers now have access to numerous ways to indulge in any of their favourite products.
The advancements in technology has allowed this to happen, with gambling being widely available to anyone over the age of 18. No single piece of technology has affected the gambling landscape more since the introduction of the smartphone, with more than 50% now using smartphones and/or tablets to gamble as their everyday source.
Although the laptop/desktop is still the market leader when it comes to gambling, the gap has been ever closing since the advances in technology. Our market research suggests that smartphones will exceed desktop usage; by 2025 to be specific.
Online mobile gambling ensures that those who don't own a computer or desktop can still take part from the comfort of their own homes. The introduction to mobile gambling has taken the gambling industry to the next level, not just in terms of improved usability, but also marketing opportunities for the industry.
Social media advertising now need to ensure that they are mobile-friendly, due to the majority of social media engagements being from mobile users clicking into gambling specific ads
Gambling mobile users are more impatient in comparison to other gambling users, with 50% leaving a certain app if usability is poor and slow. When looking into this further, we spoke to one app developer who went on to explain these statistics, "Smartphones are known for their ease of access and with the swipe of the button to open any app at the touch of a button. However, this works in both ways and if something isn't working how the consumer wants it to work, then they will certainly lose patience and exit immediately."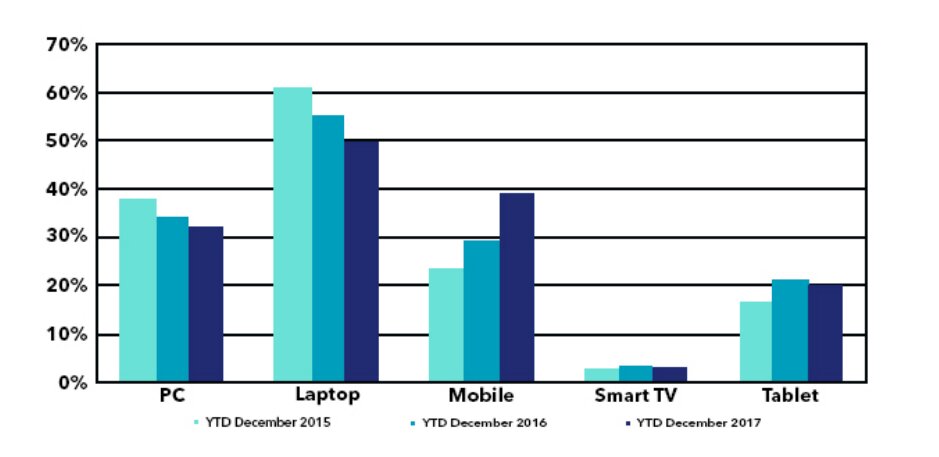 Location of Online Gambling
---
Location of online gambling
Due to the increased traffic and the general gambling demographic changing to a mobile-based server, the landscape has also changed in where users are gambling. Within our surveys, we discovered that the vast majority of gambling is still done at home, over 90% in fact. But what is more interesting, is that other areas are now increasing in popularity for consumers to access their gambling needs. This includes whilst commuting to and from work, in sports venues, and then in a pub and/or club for sports betting.
What we did find, which was most astonishing, was the numbers gambling within the workplace. A whopping 13%, with many executives explaining these are "worrying statistics" for the productivity of their companies. Due to this, gamblers are ensuring that they are getting their fix from multiple locations compared to previous decades, in which were mainly offline markets such as physical casinos.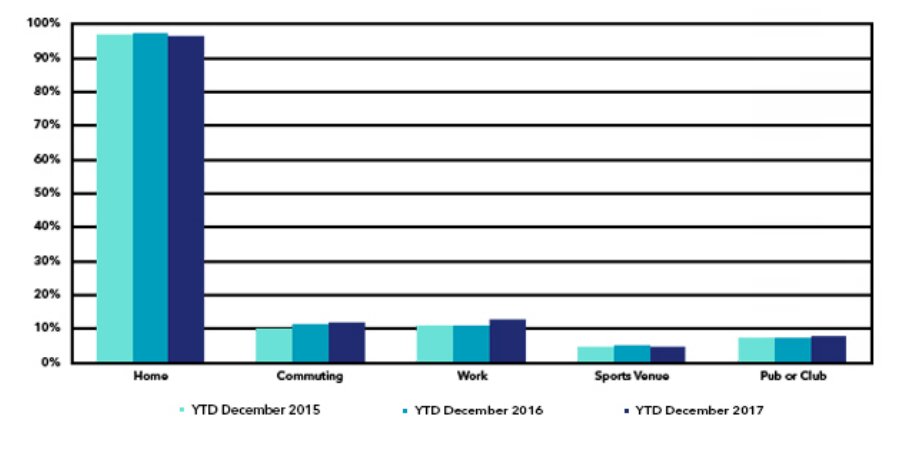 Location of online gambling
In-play betting has become an increasingly used product, and one which operators have been offering to gamblers within the past couple of years. This market hasn't quite been as successful as market experts expected when it was first released, with the growth of the market staying at a similar figure since its introduction. However, we have seen a rise in the type of in-play opportunities that are now on offer, and operators will be keen to push these. We expect to see the number of users using these types of markets to increase in time. 
Introduction of Esports
The newest market that is surging in the digital age and an area that experts are certainly keeping an eye on is that of the eSports. Experts within the industry are predicting eSports to grow to be globally worth £2bn in 2022. This figure is then set to soar in the coming years. Figures from our surveys show that 6% of all sports betting has been on eSports within the past 12 months.
Although just a small venture currently, this is an area in which operators are looking to tackle and is set to become a key area that will be focused on, with some huge players in the eSports world investing heavily in. This is certainly an area to watch.
Gamstop
---
The integration of Gamstop into the industry
Gamstop is a self-exclusion scheme, which was soft launched in April 2018 and has since been backed by the UK government and the UKGC to become the national scheme for gamblers to sign up for, if they are aware and accepting of their gambling issues.
Gamstop is a free service, in which punters can sign themselves up for, in order to avoid further online gambling complications. Gamblers are made aware that this service offered is that of a self-exclusion service only, and one cannot be included in Gamstop by one of a friend or family member due to its repercussions.
By signing up for Gamstop, gamblers are aware that they will be prevented from accessing all gambling websites that are registered on the scheme. Furthermore, on apps run by companies licensed with the scheme in the UK and in time, including new operators that may open in the future. When registering, gamblers have to choose the minimum amount of time that they will self-exclude for, with a Minimum Exclusion Period. These options are 6 months, 1 year, or 5 years. Sign-ups require the full name, date of birth, mobile number, all e-mail addresses, and home address including postcode.
One of the avenues in which Gamstop have been pushing for since it's induction to the market back in Q2 of 2018, is that of forcing operators to have a Gamstop license on all of their markets and for it to be mandatory for them to be licensed as a gambling operative in the UK. This is something the government has been looking at and experts are expecting this to soon be obliged.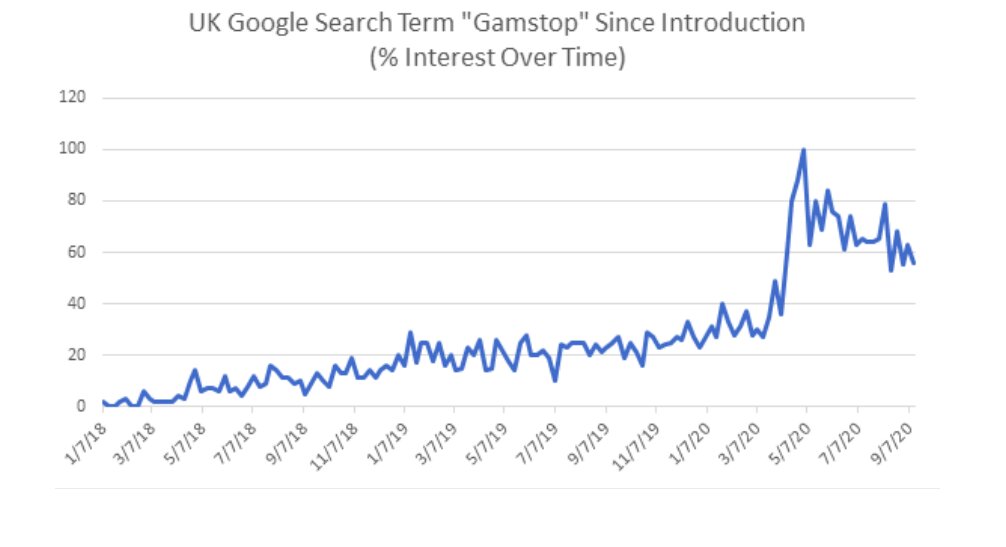 Figures of gamstop
Although figures are hard to come by regarding the total number of gamblers that are currently self-excluding, our experts have estimated 360,000 current punters in the Gamstop scheme. With current levels of active UK gamblers being at 33.6 million, that's a minuscule 1.07% signed up for Gamstop. The graph above shows the extreme increase in people searching for the term 'gamstop' – with a 500% increase during lockdown in comparison to July 2019.
Although this seems like a small-scale figure signing up for Gamstop, it is important to make you aware of the comparisons to our survey – we conclude that the UK has approximately 625,000 gamblers who are at "moderate risk" of becoming a gambling addict, thus highlighting to ourselves that these are the personnel that should be in the Gamstop scheme.
Furthermore, this shows that only 57.6% of moderate-risk gamblers are signed up to the scheme, and this certainly is a percentage in which Gamstop would like to increase.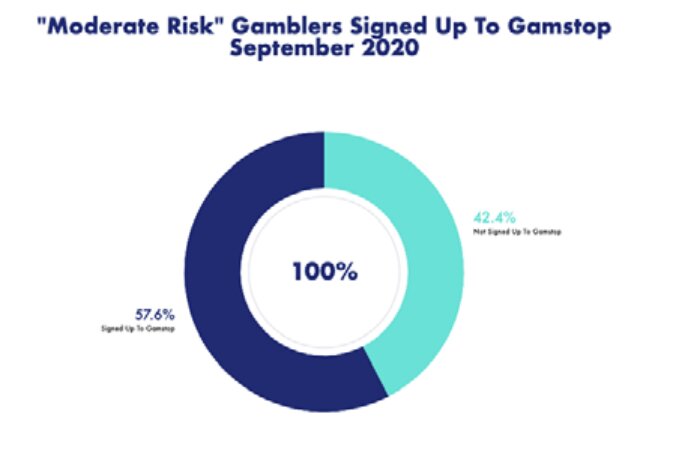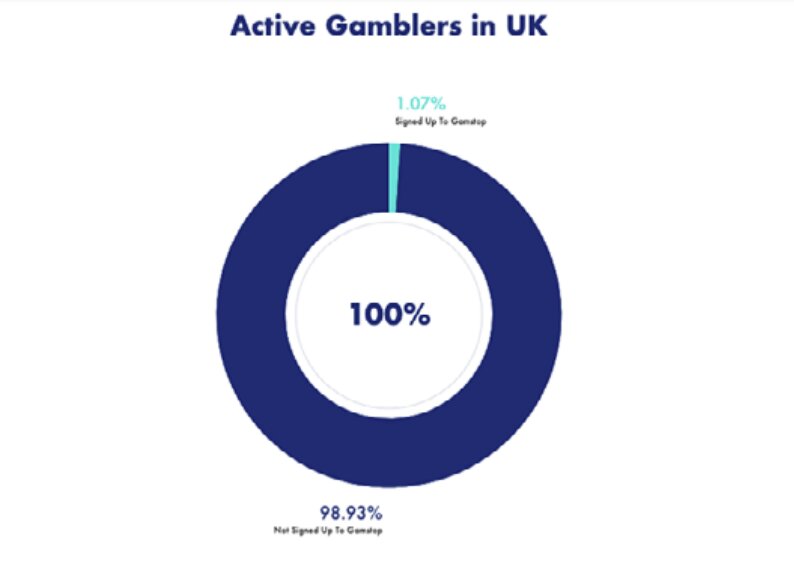 If we delve deeper into the data of specific age ranges on who is more likely to search for Gamstop terms as per the demographic sourced by Google's Audience Data, this shows conclusive evidence into which age brackets are searching for the scheme. Although the vast chunk of the data shown is taken up by mid-aged consumers, our experts were mainly surprised by the lack of searches from the 18-24 base specifically, because of the growing trend of gambling problems in young people.
Some of the young people who were included in the search went on to say they were "unaware" of the scheme and would like to be educated on the self-exclusion Gamstop.
Even more surprising in our discoveries was that of the split between Male and Female searches; one that we thought would be dominated by the Males. However, according to our research, we have found the market searches according to gender is quite an even split – 31.9% of Gamstop searches are completed by females, 39.0% by males, and then 29.1% are unknown gender searches.
A market that is primarily dominated by males shows that females are more aware of the scheme even though there are fewer female gamblers.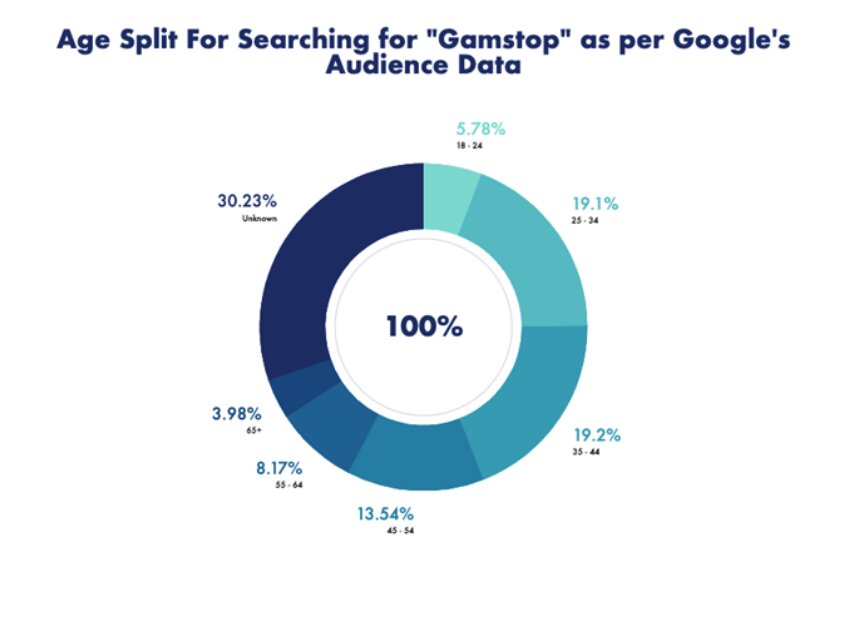 Gamstop trends at certain events
Gamstop is implemented for online services and will certainly allow for gamblers to self-exclude on all online services as discovered above. But how can that be included in live sporting events? We conducted our surveys at some certain events during 2019 to certify that the data we were collating would be that of high verification. The events we investigated were Cheltenham Festival 2019 and the Football World Cup 2018.
Cheltenham Festival attracts 60,000 horse racing fanatics each year and a vast majority, 93.6% in fact, placing at least one bet over the four-day meet. This festival is one of the largest horse racing meets in Europe, with more than £3 million pounds worth of profit being formed over the whole weekend.
Cheltenham's official sponsors Unibet are signed up to the Gamstop scheme and therefore if punters are attempting to bet through the official Cheltenham app then they will be unable to, if signed up through the self-exclusion scheme. Although this is helpful for the gamblers that do want to self-exclude, there are ways for them to avoid these schemes by betting non-remotely through the physical bookies on-site. This is something that Unibet failed to comment on and how they are preventing this from happening.
2018 – 2020 Trends

Some of our specialists have been advising and registering their concerns towards this and how this avoidance could be tackled, especially at large events. One method would potentially use geotags, which would register self-excluded phone, which would be picked up at the site and prevent them from placing any bets.
Also, and something the UKGC is looking into to is for non-remote bookies like Unibet at Cheltenham and high street bookies to have to ask for a background check before taking bets to ensure that they aren't in the self-excluded list.
One other event that we researched extensively was the Football World Cup back in 2018, just soon after the release of Gamstop. Due to the scheme being relatively new at the time of the World Cup two years ago, awareness was limited at the time. However, it was its first chance for UKGC to attempt to market the scheme to the gambling world. As a result, it started to raise awareness and we found some fascinating results post-world cup.
Google Trends data shows the search results for Gamstop from the beginning of the World cup right up until the day after the World Cup final. Although this graph doesn't give up conclusive evidence through the duration of the World Cup, it does clearly show that at the end of the tournament that search terms more than doubled compared to its second-highest peak.
What this outlines to us, is that gambling that had taken place during the period of the World Cup took its toll on punters, and more became aware of the self-exclusion scheme during this time and were, therefore, more likely to sign up to Gamstop – a successful marketing campaign for the UKGC.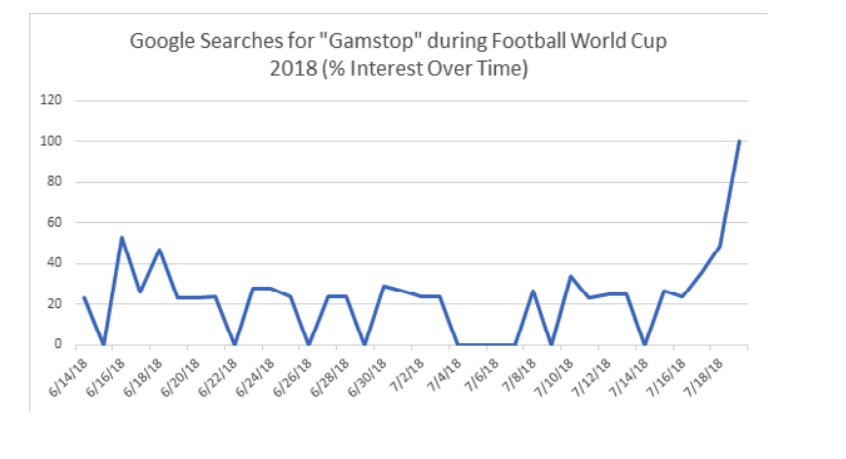 Gamstop surveys to wider audience
Experts within the market are all aware of the Gamstop scheme but research hasn't been conducted further into whether wider audiences in the gambling world know about the scheme. Or even the general public know how the scheme can help gambling addiction. 
Within the industry, frequent gamblers are not as aware of the scheme as many would think. Only 37.2% of regular active gamblers in the UK were aware of the scheme – a somewhat worrying statistic for those executives at Gamstop.
We spoke to some of the executives who had concerns about this, going on to say, "Gamstop is out there and should be marketed by leading operators to all gamblers to ensure they know that they have the option to sign up for free at any moment. We are working tirelessly to ensure this is forced upon all new potential consumers simultaneous to their sign-up details."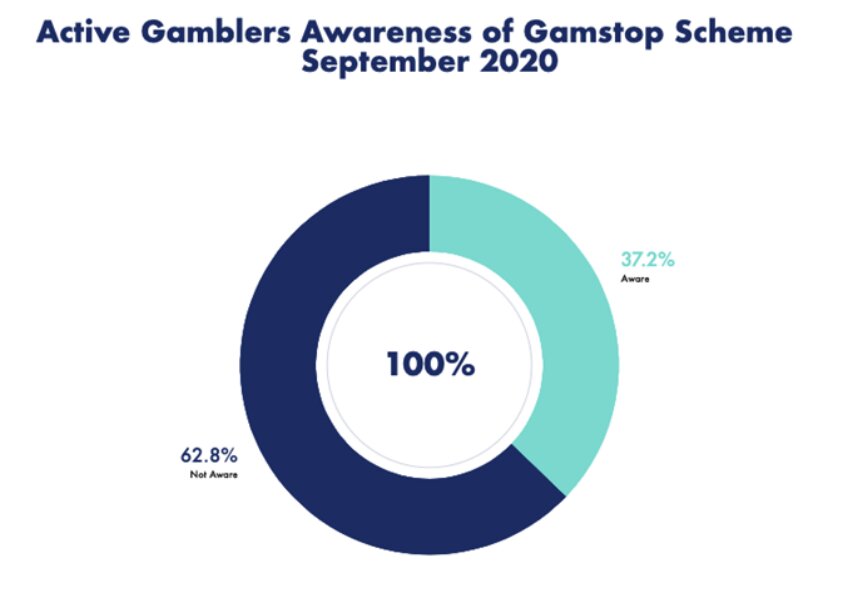 We probed further into this survey data to find out more details, not just from the gambling world, but also from the wider general public in the UK. Even though the general public isn't something that Gamstop is specifically attempting to target – still only 4.3% from our survey knew what the scheme was when asked during a gambling related conversation.
Many explained they were only aware of marketing terms such as "When the fun stops, stop." Although it's positive to know this, professionals in the industry will be looking to ensure that this slogan could potentially be tied into the Gamstop scheme. 
Effects of gamstop during global pandemic
When the world was shocked and brought to a standstill due to the global pandemic caused by Covid-19, many industries were affected as a result of countrywide lockdowns implementing social distancing rules. However, within the sector, gamblers demonstrated a distinct increase in their behaviour, with increases of over 400% in casino related search terms, on Google, during the UK lockdown. 
As shown below, there have been increases in virtually all gambling services, apart from those of live events, which were all cut off due to the lockdown. This therefore shows that gambling was more popular than ever in the height of the lockdown.

Using ahrefs.com, we undertook a search into their Keyword Explorer to pull further data from the use of Gamstop related search behaviour during lock downed months. As the line graph below clearly shows below, a trend in searches attempting to find a way to self-exclude during the lockdown is clearly evident.
This exponential growth is mainly down to the fact that active gamblers have been more likely to gamble during the period of uncertainty, perhaps to degrees that have been unseen in recent history. 
As a result of increased gambling activity, this is likely to result in an increased number of those becoming addicted to such behaviour, and those at "moderate risk" are more likely to self-exclude during 2020. Gambling is also closely linked to mental health, with consumers in the moderate risk category being twice as more likely to have mental health issues.
Schemes like Gamstop are there to improve the lives of the gamblers and to take them away from the markets that will affect their mental health adversely.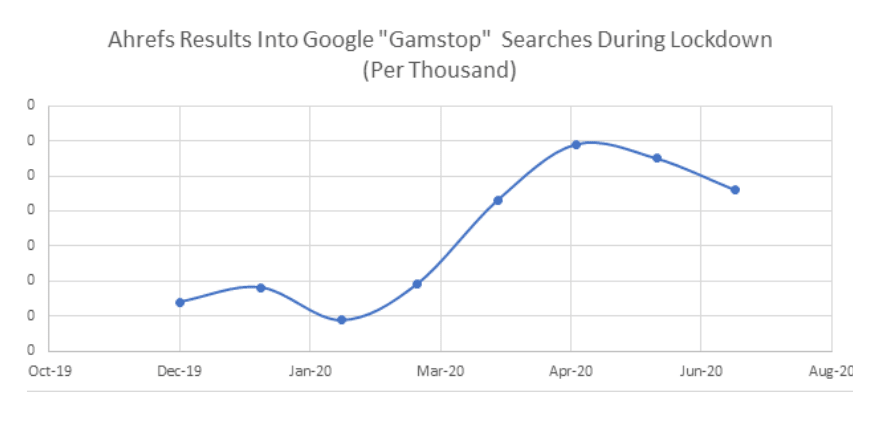 The avoidance of gamstop
Whilst the Gamstop self-exclusion scheme brings a lot of positives to those who are at risk of gambling addiction, there has been a lot of controversy towards the water-tightness of its database and protocol. 
Our team have delved deeper into a way of bypassing the scheme, even when you have signed up to self-exclude. The scheme is designed to put a cease on all gambling logins for all signed up operating bookies, ensuring that the self-excluded cannot access any of the markets – a one rule for all approach. But experts are now stating that the system can be bypassed with relative ease – some frailties as minor as including a misspelling in a surname.
In our investigation, we concluded that it was very easy to open a brand-new account to continue your gambling adventures, even when signed up to the scheme; something that is very concerning to many friends and family of the self-excluded. As well as this, when signing up to a new betting account, many operators are offering deals in which are so enticing such as "£50 in free bets" which encourages moderate risk gamblers further still.
What should Gamstop Be?
Individual case studies have backed up this notion to a greater degree. One source went on to say, "Gamstop should be a lot tighter than this, it's a professional outfit in which is supposed to secure the welfare of vulnerable gamblers and be at their comfort. More should be done to stop the loopholes."
As a report, we concluded a whole host of ways in which Gamstop could improve its security and accessibility features, thus terminating any chance of the self-excluded gaining access to any kind of gambling market. One solution to completing this could be to record the gambler's IP address and eliminating access to all betting related content. This will eliminate any misspellings of names to allow access.
Furthermore, there is a definite trend in the evolution of non-regulated gambling sites that are bypassing the Gamstop scheme, most of which are licensed and regulated outside of the UKGCs jurisdiction. This is a fundamental loophole that is widely exploited, and one which the UKGC and other relevant bodies are looking to tackle.
Operators that fall into this bracket are typically licensed from Curacao, Gibraltar, and Malta, as they don't have to abide by legislation set by the UKGC. As shown by the Google Trends data below, this search term is only on the rise: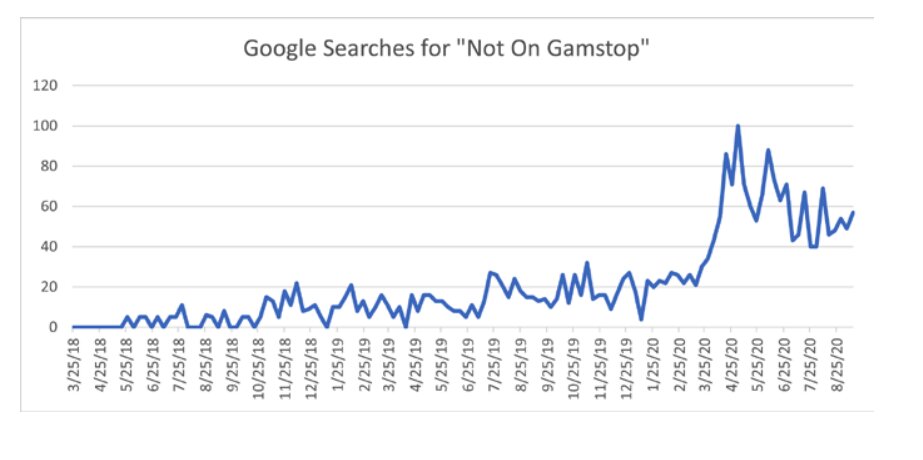 This is obviously of concern to the authorities, who have come out and stated that they have a "zero-tolerance policy" when it comes to this and are working strenuously to ensure that this is kept under control. Consumers will be keeping a close eye on this and will be wanting to see action taken on this, with the UKGC coming under regular pressure to eliminate this activity.
Public perceptions and attitudes towards gamstop
Gambling as a whole, is still an industry in which is frowned upon by the majority and still gathers negative attitudes with specific regard to the ethics and morals in the way the sector operates.
In fact, according to the Gambling Commission's Behaviour, Awareness and Attitudes report earlier on in the year, 29% of the people surveyed called for the gambling industry to be put on a total ban. Although on a whole we think that this is somewhat overstated, there are serious calls even within the industry for the "total ban" to be pushed through and forced upon us.
To further our investigation, we ran a couple of case studies to find out first-hand what the perceptions and attitudes towards Gamstop were and just how effective it had been for some of the self-excluded. To ensure that our surveys were thorough and non-biased, our case studies were selected from various backgrounds with different monetary circumstances to develop a better understanding of how it is working or not working for people within the industry.
One of our case studies, coming from a comfortable background explained to us some revealing information about the scheme. This one gambler had signed up for six months initially to trial how the scheme would work for himself, "I have never gambled money that I could afford to lose and everything I gambled was my disposable income – and this is something that I was adamant on." He continues saying, "Gamstop was a good initiative for me, it cut down my gambling abruptly and ensured that I could take a break from my five-figure weekly deposit for half of the year." "Using money, I have earnt from my work-business over the week and spending it within 5-10 minutes was not sustainable for myself, my business, and also my family.
One surprising thing about the self-exclusion scheme was that although I couldn't log in to UK based casinos, I was still receiving promotional and marketing e-mails from all of the main operator. An area I thought would have stopped during the exclusion period."
Another case study was the son of the self-excluded member that approached us when he found out that we were running this survey and wanted to express his feelings towards Gamstop.
Just to provide some background information, his father, had run up debts of up to £500,000 and even spent time in prison having stolen money from his employers to enable his gambling habits to continue. Once self-excluded, the son ran further tests into the security of the scheme and described them to us as "shambolic." He went on to say, "I could still access Gamstop signed-up operators even having signed up myself through the simple change of a letter in my surname or even the decapitalisation of a letter or digit in my address would still allow me access.
This was not just a worrying sign for me, my family, and my father, but also for other gambling addicts that have been through simple heartache that our family has." Gamstop officials have commented back to us on this and explained that "they are working endlessly with operators for their verification checks to become robust and for it to be mandatory to be signed up through the UKGC to be an operator in the UK."
Gamstop feedback from experts
During the relatively short period in which the Gamstop scheme has been running, just under two years, officials believe they have made "steps in the right direction" towards reducing problem players from the industry to ensure that people are gambling safely. Although the scheme is still in the trial period and they are still gathering information towards gambling trends and habits, they truly believe they are taking the right strides towards a better market for all.
They understand the concerns towards the scheme and are making these their "main priority" moving forward. However, they did outline that this isn't a one-way street of work, and that others will have to contribute to reaching this desired outcome.
Operators have also commented on the scheme and expressed their opinions as to how it is working industry-wide. Although they are happy for the scheme to be continued on their platforms and want a safe environment for all their customers, many are sceptical. They can't do anything further until the UKGC get the self-exclusion schemed passed through British law to make it mandatory for them to be signed up, and to offer it to moderate-risk gamblers.
Operators ensure us they are working hyper-actively to assess the numbers on all of their sites to highlight to them who is in the category of moderate-risk and to offer them advice on how to improve their gambling habits.
Summary
---
On the whole and with all information gathered, Gamstop has taken a step in the right direction to ensure that everyone is gambling in a safe environment. Consumers are thankful that they do have the option in which to self-exclude, in order to limit their gambling altogether. Consumers are aware of the loopholes in which can be exploited if the self-excluded want to continue gambling, although trying to eliminate these issues is virtually impossible for the Gamstop scheme without government backing.
In conclusion, the industry wants to ensure that everyone is getting the support that is required on operators' sites, and knowing that should one develop an addiction, there is help available. Although the industry now adopts this self-exclusion scheme, experts who have done further research into the market on how they can prevent gamblers becoming more of a moderate risk believe this can be achieved through the likes of self-help resources that can be found online.
Although cutting gambling out sounds like a good idea for those affected, this total adjustment could have detrimental and averse mental health permutations which need to be widely considered. We would like to see the UKGC invest more heavily in this area, to prevent getting to the stage of Gamstop in the first place and "nipping the issues in the bud" before they increase in severity.
Although operators understand that profits would be affected by the use of these educational schemes and Gamstop, they are aware that it is an absolute necessity, with the state of moderate-risk gambler's health more important than any form of monetary renumeration.
And finally, for the Gamstop scheme to be working at optimum levels, we believe that more needs to be done from either the government or the UKGC to be educating gamblers and the wider audience, to ensure that everyone is aware of the scheme and how it can either help them, a friend or a family member. Increased budgets, harder hitting advertising campaigns, and even intervention courses are just a handful of ways in which this could be better approached.