Vivo Gaming has proven itself to be one of the most favourable live casinos in the industry with multiple gaming options for players. The users are guaranteed a good gaming experience from the unique provisions to the effective customer services all through.
The liveliness of the games provided by the company gives an exciting edge to the games so players can get more than just winnings. Therefore, when you decide to play Vivo live dealer games, you are guaranteed a smooth experience that suits your taste to perfection. Hop on to explore this fascinating world of gaming and innovation.
Diverse Games at Vivo Gaming
There is so much on offer for players by Vivo Games. The creators of the various provisions look at the market and create what is most playable at the time. Vivo Gaming caters to a broad spectrum of player preferences, from the classic charm of table games to the delight of spinning reels in slots.
One could be in the mood for an adventurous game at a particular moment and the other in need of a classic table game. Both of these players will get what they want with Vivo live games as they have different feels and themes for users.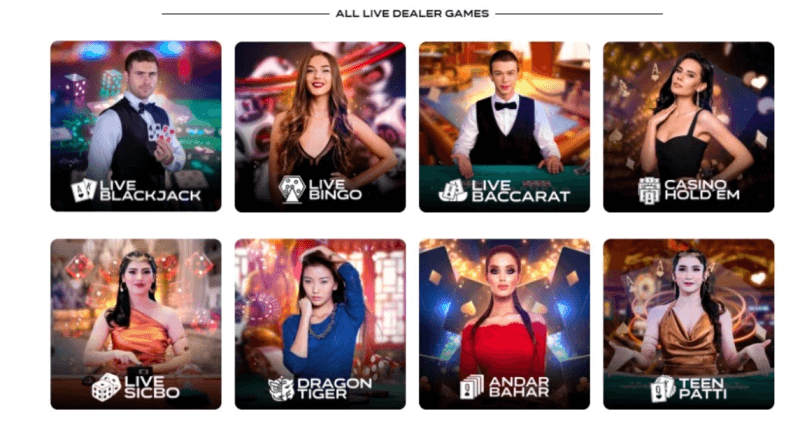 Game Selection
Vivo Gaming provides a broad selection of table games and slots to cater to the changing demands in the industry. These options include Baccarat, Roulette and Blackjack. The players also have several options and titles to choose from including Andar Bahar, Teen Patti, Sic Bo, Xoc Dia and Dragon Tiger. One thing to note is that the previously listed games are available upon request but are not active at this time.
The range of slots Vivo Gaming offers is equally remarkable, featuring several games for the unique players in the industry. The company provides slots with themes like fantasy, adventure and traditional slots. Among the noteworthy titles are:
Fruity 7: A classic fruit-themed slot game with 5 reels and 25 paylines.
Princess of the Sea: An underwater-themed slot game with 5 reels and 20 pay lines.
Carnival Cash: A carnival-themed slot game with 5 reels and 25 pay lines.
Lucky 7: A classic slot game with 3 reels and 1 payline.
Wilds and the Beanstalk: A fantasy-themed slot game with 5 reels and 25 paylines.
In addition to these standout titles, Vivo Gaming offers slot games catering to different preferences. The company's slot selection constantly expands, so players can expect to see new titles added regularly.
Live Dealer Experiences
Vivo Gaming invites players into the heart of excitement with its live dealer games, an immersive journey that bridges the gap between virtual and real-world casino thrills. Picture yourself at the virtual table, facing professional dealers who deal cards or spin the roulette wheel in real time.
The lively interaction and authentic casino atmosphere redefine the gaming landscape. From the elegance of classic table games to the fast-paced action of unique live offerings, the magnetism behind Vivo's live dealer experience stands out, where cutting-edge technology and human connection converge for an unparalleled adventure in online gaming.
Technology and Innovation
Software provider Vivo Gaming provides a large selection of live dealer and online casino games and has remained at the helm of the business for close to two decades now. The company is well-known for its state-of-the-art technology that improves gameplay in general. The excellent graphics, music, and animations of Vivo Gaming's games make an engaging gaming experience.
Using HTML5 technology is one of Vivo Gaming's primary technological innovations. Thanks to this technology, the company can now produce games that work on various platforms, including desktop and mobile ones. MDN assures that gamers will get a smooth gaming experience because the games are optimised for various screen sizes and are meant to be responsive.
Additionally, Vivo Gaming employs cutting-edge audio and visual technology to produce a lifelike gaming environment. Players can watch every aspect of the game in high-quality thanks to the company's live dealer games. High-quality audio is also included with the games, improving the gaming experience.
Apart from these technological advancements, Vivo Gaming also has a group of skilled developers working for them who are committed to producing excellent-quality games. The company is dedicated to giving gamers a safe and secure gaming environment, and its games are extensively tested to ensure that they are fair and dependable.
Mobile Gaming
Vivo Gaming embraces accessibility without sacrificing performance as it easily adapts its thrilling gaming experience to mobile devices. The excitement of the casino is right at your fingertips with Vivo's games, which are compatible with a wide range of smartphones and tablets. The user interface can adjust to various screen sizes and operating systems with careful design.
Players may easily navigate through an intuitive UI on iOS and Android devices, making for a seamless and fun gaming experience even on the road. Thanks to the commitment to mobile friendliness and user-friendly design, you can enjoy Vivo live dealer games in any dimension. These features increase gaming flexibility and allow players to enjoy their favourite casino games wherever they are.
Security and Fair Play
As the ACGS rightly points out, casino related activities should be well regulated to avoid any issues with authorities and stamp out illegal activity. Vivo Gaming is dedicated to providing users with a safe and secure gaming experience. The company takes several precautions to guarantee that its games are trustworthy and fair. The Curacao eGaming Licencing Authority, the MGA, and the Bulgarian State Commission of Gambling have approved the live dealer products offered by Vivo Gaming.
Additionally, the company's live dealer products have undergone testing in highly regulated areas to comply with standard practises. Further, Vivo Gaming can distribute its approved products to licensees of the Isle of Man Gambling Supervisory Commission (GSC).
Vivo Gaming has implemented stringent security measures in addition to these certifications to guarantee player safety further. A highly qualified and experienced global support staff monitors the company's system continuously. Vivo Gaming's Custom Platform Architecture was carefully built to put minimal hardware management on its licensees' side. Thanks to its robust servers spread across numerous regions, Vivo guarantees quick communication and the best possible data security with fail-safe procedures.
This frees up casino owners to focus on running their establishments rather than worrying about the reliability or security of their games. Since Vivo Gaming monitors every aspect of its gaming business in real-time, it can respond quickly to any issues with any service, including player behaviour and fraud-related concerns.
Customer Services
The company provides customer support services through its official website. The platform is designed to be user-friendly and easy to navigate, with the most important information prominently displayed. If you have any other general queries regarding games and related issues, you can use the FAQ section for easy direction and follow up guidance. Such follow up provisions include a contact form where the player can contact the support team for queries on a one-on-one basis.
The customer support team is available 24/7 to assist players with any issues they may encounter. Vivo Gaming's highly trained and experienced support team ensures players receive prompt and professional assistance. The global aspect of the customer base is also captured in this sense as the customer service team can cater to clients from a different linguistic background, as Hripsime points out in his piece.
Global Presence
The company boasts a global reach with specialised studios spread across many nations such as Bulgaria, Uruguay, Colombia, Malta, Cambodia and the Philippines. Because Vivo Gaming's stations are entirely tailored to the brands they represent, every player can have a flawless gameplay experience. The native speakers of the company's dealers contribute authenticity and facilitate communication with clients in their preferred language.
However, it's crucial to remember that Vivo Gaming abides by the laws prohibiting online gambling in some nations. Before engaging in any online casino games, players must confirm the laws and regulations in their area. Vivo Gaming is an excellent option for playing at an online casino because of its widespread presence worldwide and dedication to offering a secure and safe gaming environment.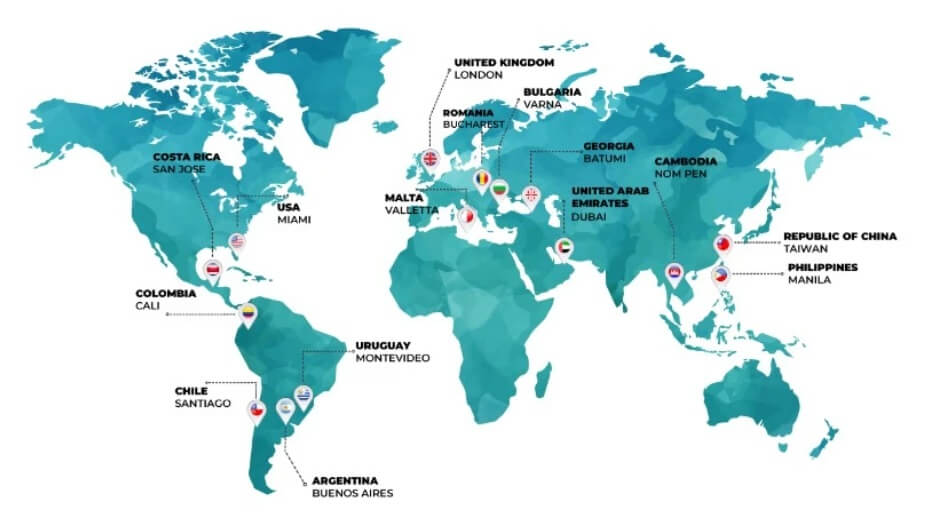 Bloodmoon Casino live games
Vivo Gaming's products are available at Bloodmoon Casino, an online casino with a Curacao licence with games to suit the client's preferences as effectively as possible. To improve players' gaming experiences, this casino provides a variety of promotions in addition to welcome bonuses, deposit match bonuses, free spins, cashback offers and more.
Players can increase their bankrolls and extend their playtime by taking advantage of the institution's fresh and intriguing promos.  A range of safe and practical payment options are offered by Bloodmoon Casino, including bank transfers, e-wallets, prepaid cards and credit and debit cards. This provider prioritizes player assistance, because an unhappy client is as good as a lost prospective client. Skilled and friendly support representatives can help players with any questions or issues.
Final Thoughts
Vivo Gaming is a force to be reckoned with in the online casino industry, providing a diverse range of games that skillfully combine cutting-edge technology, engaging live dealer encounters, and creative gameplay. The game provider is unique in the business because of its dedication to accessibility, diversity, and player engagement. You are in for the best possible online gaming experience with the slots and games on offer.
BloodMoon Casino is the ideal entry point for anyone looking for the pinnacle of this exhilarating experience. This casino is good at welcoming gamers to delve into the vast realm of Vivo Gaming's products with effective customer service and seamless gaming experiences.